Range of services



What we can do for you
I&TM-Advisors is a management consultancy with core expertise in the fields of product and platform design, process optimisation and innovation management.

Product and platform design: We conduct our customers through complex product development projects from the early conception stages right through to the final implementation.

Process optimisation: Together with our customers we compile and implement programs to improve the operational processes of their business. In so doing we also optimise the interaction between product and process.


Innovation management: We support you during idea generation as well as in defining your innovation strategy and structuring efficient innovation processes.

I&TM Advisors supports customers primarily in the automotive, mechanical engineering, consumer goods and electronics industries.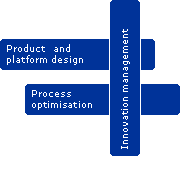 Please contact us at:
Dr. Carl Pawlowsky
Phone: +49 (89) 480 88 286
pawlowsky@itm-advisors.de